I make cafe latte every morning with a freshly pulled espresso with soy milk. A perfect cup of coffee to kick start my day. This is my favorite time of the day.
I like coffee flavored sweets, so I tried to make sweets by using this espresso.
This cream is a little bit lighter than ganache cream, and richer than whipped cream. The amount of whipping cream and chocolate allows the cream to be lighter or richer.
For the macaron dough, you just need to change the amount of almond powder and add cacao powder. Make the chocolate macaron dough in the same way as the plain one.
You can find the macaron dough recipe from here >>> https://indyassa.com/macarons/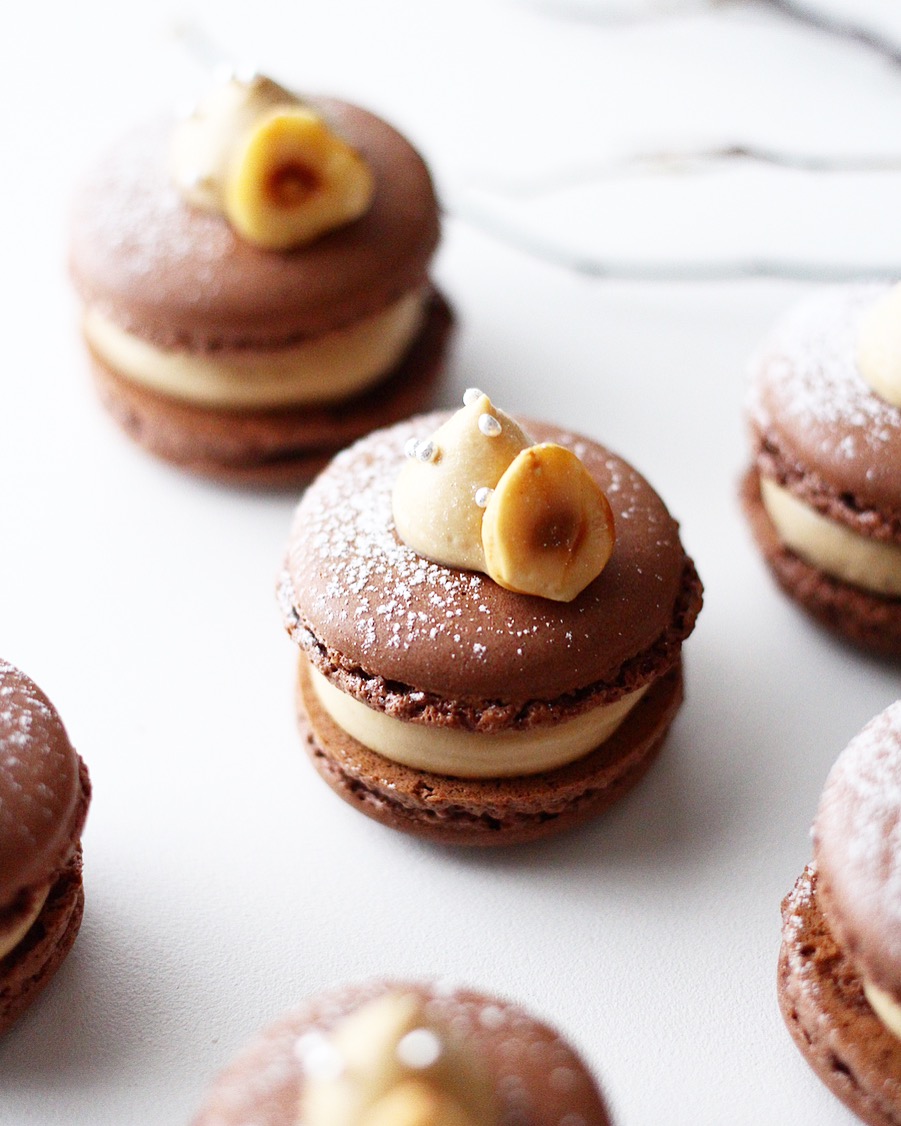 Recipes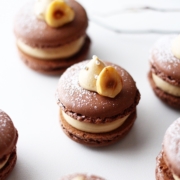 Macarons au café
Chocolate macaron dough
35

g

almond powder

15

g

cacao powder

50

g

powdered sugar

15

g

egg white

90

g

granulated sugar

30

g

water

30

g

egg white
Ganache au café (Rich coffee cream)
160

g (1cup)

white chocolate

120

ml (1/2cup)

whipping cream

2

shots

espresso
Decoration
1/5

cup

roasted hazelnuts

powdered sugar
Macaron dough
Make the chocolate macaron dough in the same way as the original one.

Ganache au café
Melt the white chocolate with a double boiler.

Heat the whipping cream before bringing to a boil, add it into the white chocolate.

Mix it gently from the center to outside in a circular motion.

Pull an espresso shot and add it into the chocolate base. Mix gently to combine. Put it into the fridge and let it cool.

After it gets cold, whip the cream and transfer to a piping bag. Pipe the coffee cream onto one piece of macaron and top with another macaron to form a little sandwich.

Arrange with roasted hazelnuts and sprinkled powdered sugar.
Helpful Tips
If you don't have a espresso machine, you can use soluble coffee instead.
Add 1tpsp of soluble coffee into the hot whipping cream, and mix with chocolate.