There are tons of Tiramisu recipes, rich ones, light ones, flavored ones… I have many Tiramisu recipes as well, but today, I'd like to share with you a traditional recipe which I've learned from my Italian chef friend. And as a Japanese, I'm gonna make a Matcha version.
I made my Tiramisu in glasses but you can also bake as a lady finger shape and make your Tiramisu in a deep dish. Making Tiramisu in individual glasses makes a lovely presentation, but it takes more time compared with making it in a deep dish. When I have many guests, I always prepare it in a big deep dish. Please enjoy this japanese spin on a popular Italian dessert.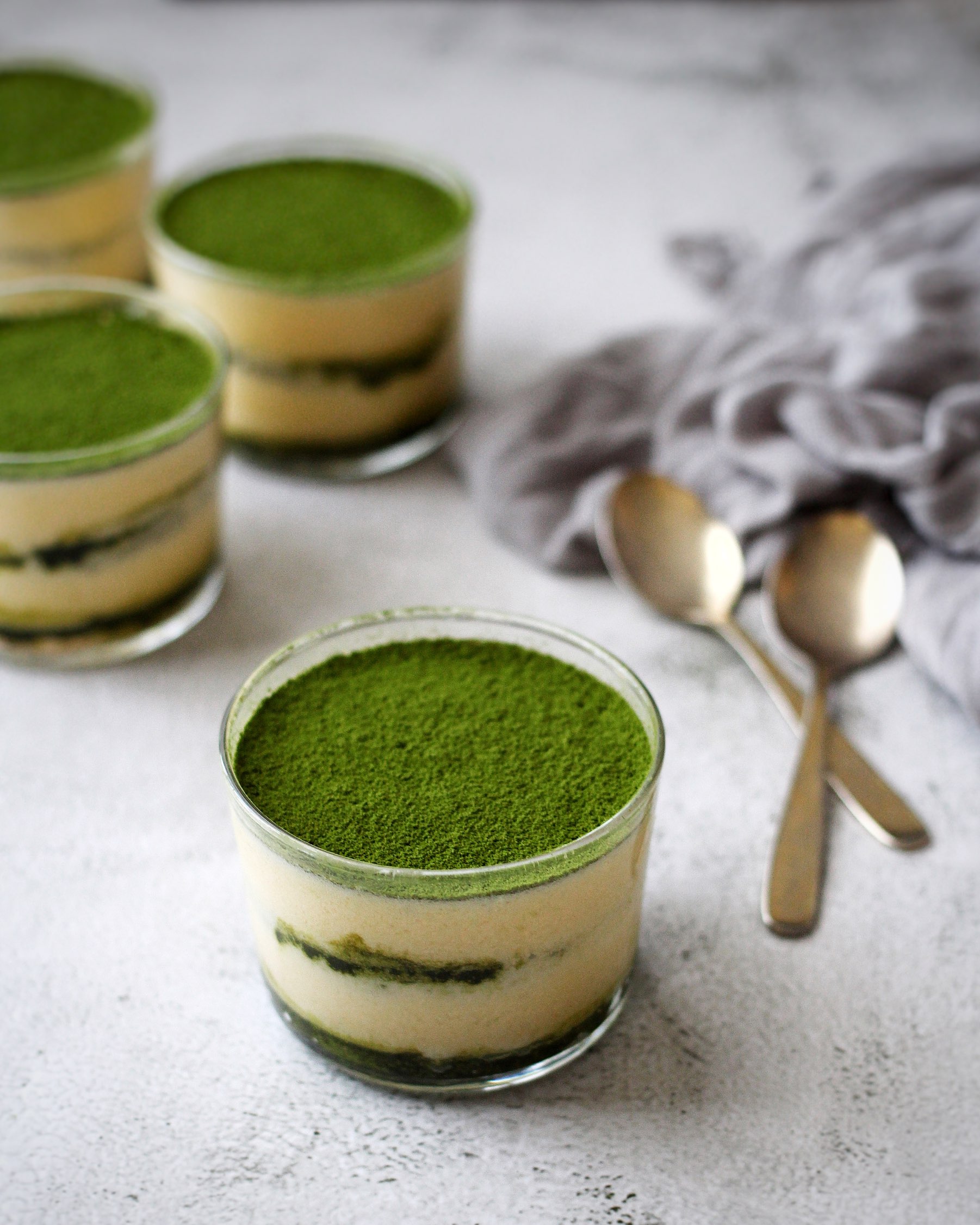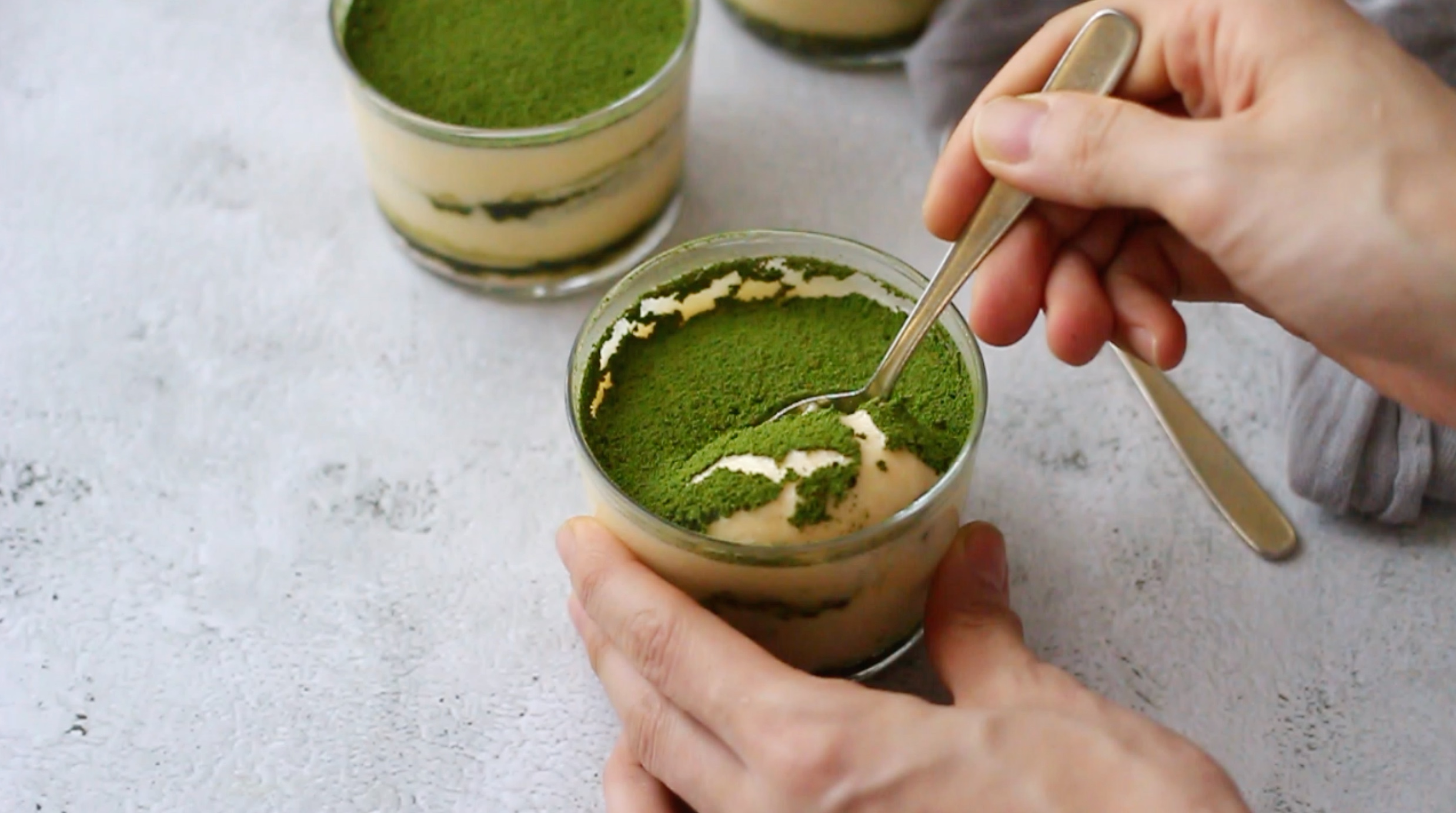 Recipes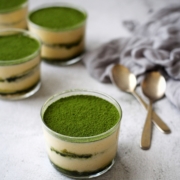 Matcha Tiramisu
Sponge cake for Tiramisu
3

egg yolks

3

egg whites

90

g (1/2 cup)

caster sugar

90

g (3/4 cup)

all purpose flour

powdered sugar
Matcha Syrup
18

g (3 tbsp)

matcha powder

70

g (1/3 cup)

sugar

100

ml (1/3 cup + 1 tbsp)

water
Tiramisu Cream
300

g

Mascarpone cheese

3

egg yolks

3

egg whites

45

g (3.5 tbsp)

caster sugar (for egg white)

45

g (3.5 tbsp)

caster sugar (for egg yolk)

Matcha powder for decoration
Sponge cake for Tiramisu
Line a baking tray with baking paper. Prepare a piping bag with a round tip. Preheat an oven at 200°C/390°F. Sift the flour on the paper and set aside.

Put the egg whites into a mixing bowl. Add about one pinch of sugar into it, then start whipping with the highest speed. Add the rest of sugar at two different times while you are making the meringue. Make the meringue at firm peaks.

Once the meringue whipped properly, add the egg yolk, and just mix it a little.

Add the flour little by little and mix with the rubber spatula from bottom to top. Try to mix the batter as little as possible to prevent the cake from becoming dense. When you can't see the flour anymore, you should stop mixing.

Transfer the batter into the piping bag, then pipe the batter in small spirals to fit your glass size onto the baking tray. Sprinkle powdered sugar generously to get a crispy texture.

Reduce the oven temperature to 190°C/375°F. Bake for about 10 to 12 minutes or until the surface looks to be dry and little crispy. You only need to cook until slightly golden. Transfer the sponge cakes onto the rack immediately then place another baking paper onto the sponge cake. Let it cool at room temperature.
Matcha Syrup
Put the sugar and water into a small pan and bring to a boil to dissolve the sugar. Sift the matcha powder with a sieve into a bowl.

Add the syrup to the matcha little by little then mix to dissolve. Strain with the sieve into a small bowl then let it cool.
Tiramisu Cream
Put 45g of sugar and egg yolks in a mixing bowl, whip until it becomes pale. Add the Mascarpone cheese into it, mix just until combined.

Put 45g of sugar and the egg whites in another mixing bowl, whip until firm peaks are formed.

Add the meringue into the cheese mixture in three parts and mix to combine.
Assembly
Quickly dip one side of the sponge cake into the matcha syrup then turn it over, remove from the syrup. Then place it into the glass. Put Tiramisu cream onto it and spread evenly. Dip another sponge cake into the syrup and place it onto the cream, then add the cream onto it again. Repeat the same step for the other glasses. Cover with plastic film and chill for at least six hours or overnight. Just before serving, sprinkle matcha powder on top.
Helpful Tips
Adjust the amount of matcha for the syrup to your liking, keeping in mind that matchas can vary in intensities from country to country.If you want to make a traditional Tiramisu, you can just change this syrup to a strong coffee. Or you can also change to strawberry sauce for strawberry tiramisu.