If you asked me what my favorite sweet is, I would say chocolate. So today, let's indulge ourselves with these Japanese pancakes with chocolate sauce.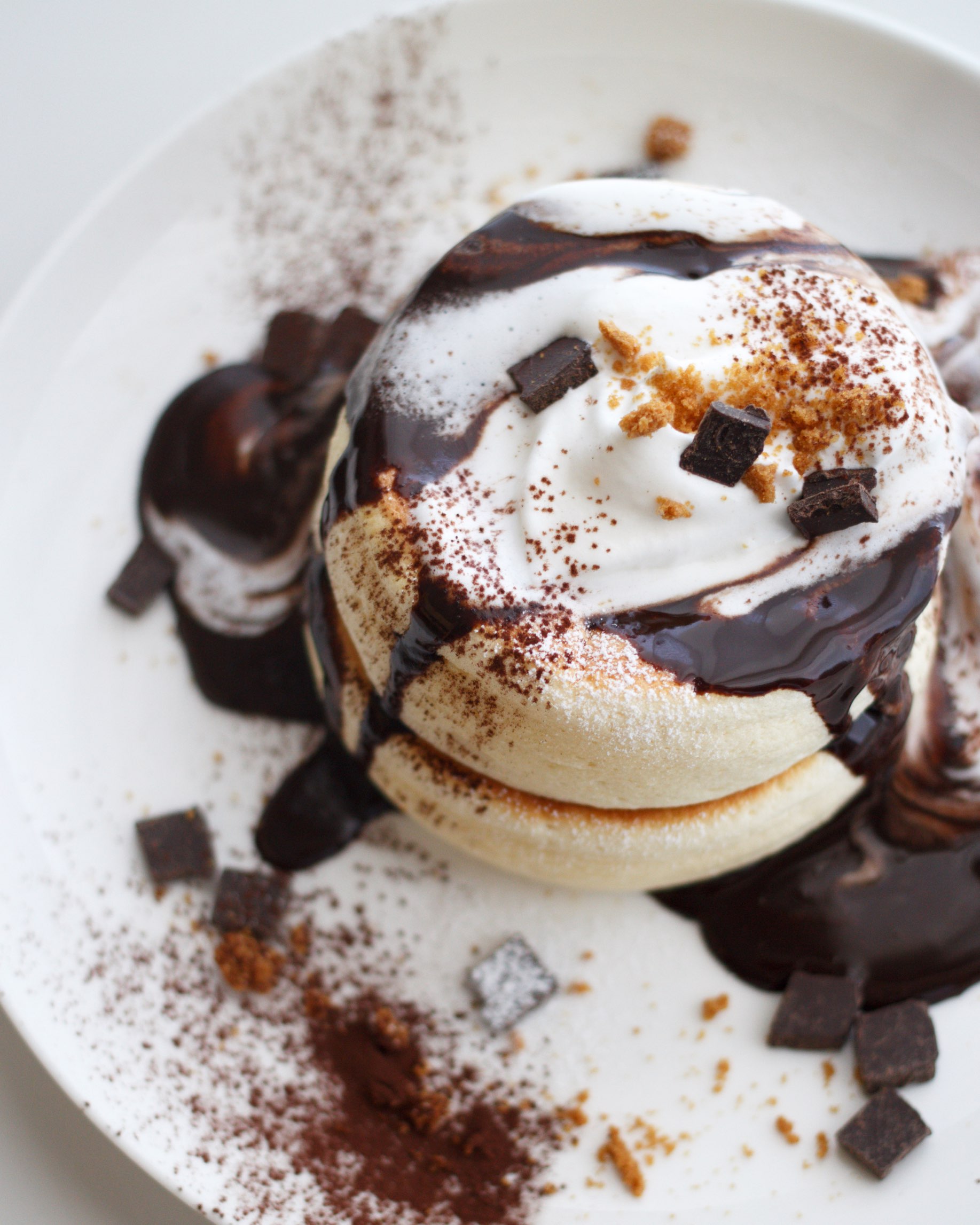 You may wonder, why don't you just add chocolate to the pancake batter. While that must also be delicious, Japanese pancakes are known as very fluffy pancakes, but they are delicate at the same time and they shrink easily as time goes by. Chocolate contains fat that can break the fluffiness of pancakes. So let's bake the original Japanese pancakes then pour on top as much chocolate sauce as we want.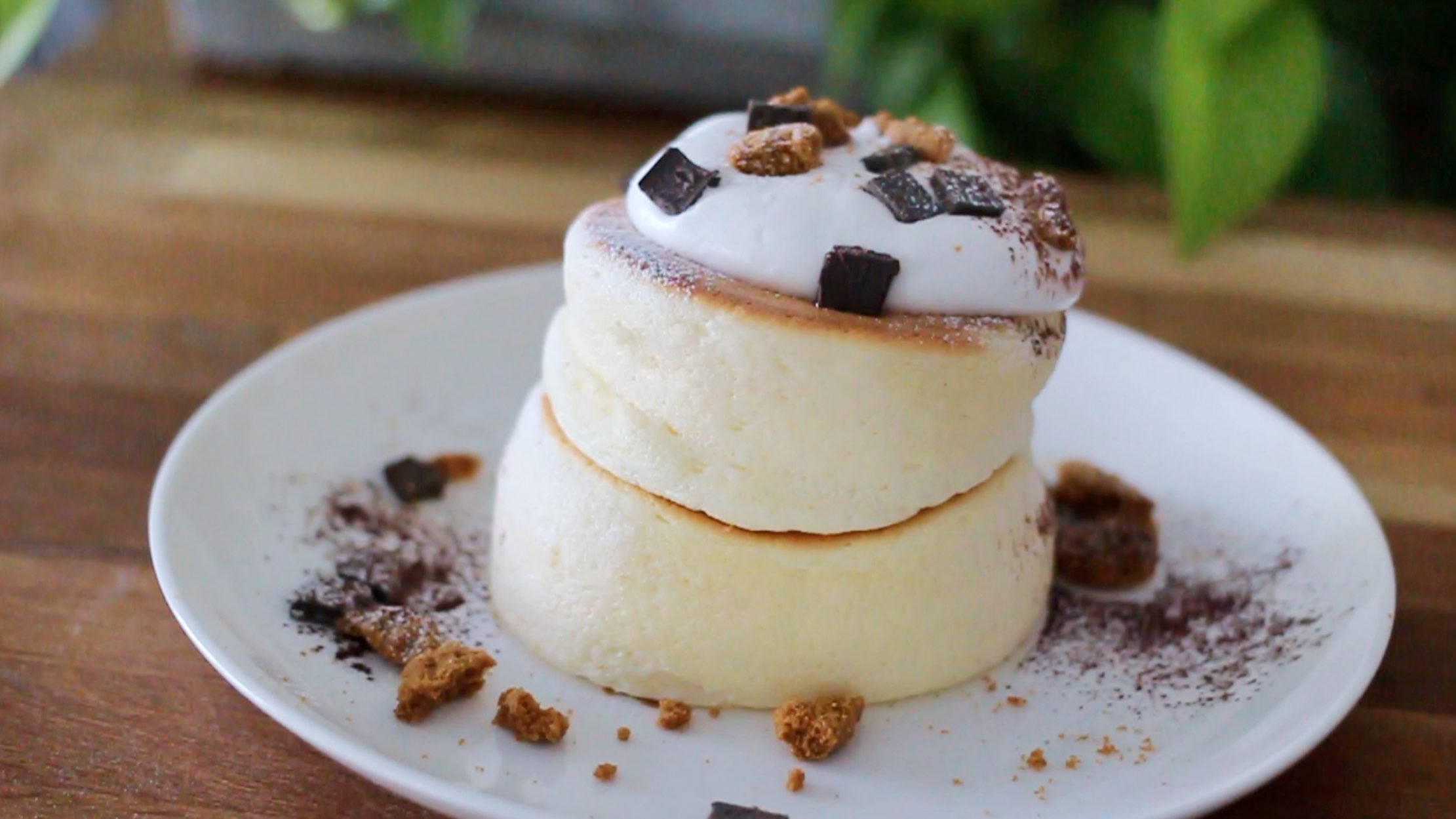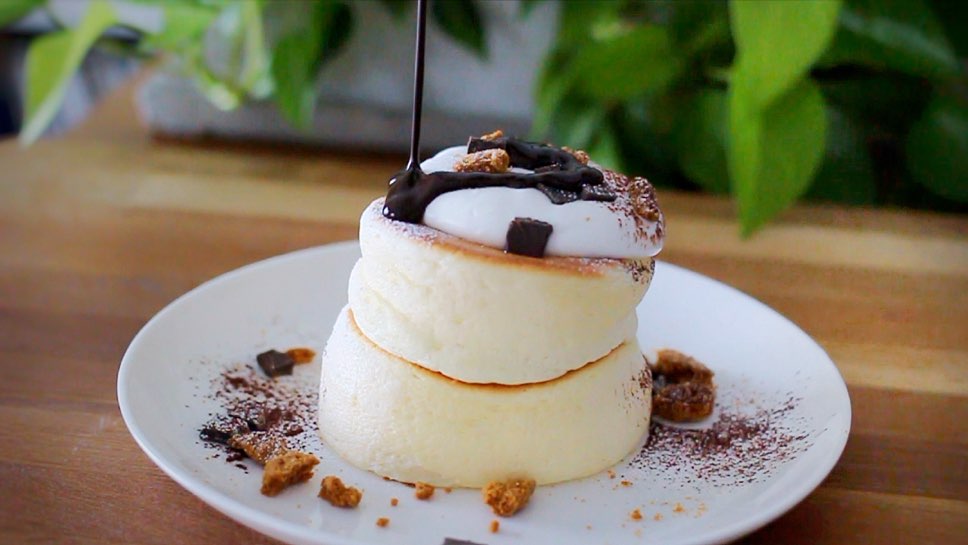 Recipes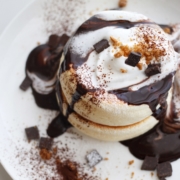 Japanese souffle pancakes with chocolate sauce
Chocolate Sauce
150

g (1 cup)

chocolate

60

ml (1/4 cup)

milk
Whipped cream
120

ml (1/2 cup)

whipping cream

13

g (1 tbsp)

sugar
Japanese Souffle Pancakes
2

large eggs

30

ml (2 tbsp)

milk

24

g (3 tbsp)

flour

1

g (1/4 tsp)

baking powder

1/2

tsp

vanilla extract

(optional)

1/2

tsp

lemon juice

(optional)

26

g (2 tbsp)

sugar

cookies, chocolate chips, cocoa powder, powdered sugar for decoration
Chocolate Sauce
Put the chocolate into a bowl then place the bowl over a pot of hot water. Stir occasionally to melt it evenly. I prefer to use dark chocolate for my chocolate sauce but feel free to use your favorite chocolate like milk chocolate or white chocolate.

Meanwhile, put a quarter cup of milk into a microwave-safe cup and microwave it until simmering. You can also heat it up on the stove.

Once the chocolate is melted, remove it from the double boiler then add the warmed milk in three parts. Stir gently from the center outwards, mix to combine. Don't mix roughly, otherwise excess air will get inside and the texture will be less smooth.
Whipped cream
Put the whipping cream and sugar into a mixing bowl, whip it up until medium stiff peaks. Keep in the fridge before using.
Japanese Souffle Pancakes
For detailed instructions, please click here.
Assembly
Once your pancakes are baked, transfer to a plate. Put a big spoonful of the whipped cream, arrange the crumbled cookies and chocolate chunks. Sprinkle powdered sugar and cocoa powder for presentation. Then pour as much sauce as you like over the pancakes. Enjoy as soon as they are ready:)
Helpful Tips
You can keep this chocolate sauce in the fridge for up to four days, and you can enjoy it with not only pancakes but also with your ice-cream, cake, whatever goes well with chocolate sauce. It will get a little hard when you keep it in the fridge, so warm it up a little before using it to bring it to room temperature.