Actually, I'm not a big fan of pavlova because it's normally a bit too sweet for me. I like Meringue Chantilly which is a classic French dessert, made with crispy roasted meringue with whipped cream, so I blended my favorite parts of these recipes to make this dessert.
I baked the meringue with shredded coconut and spread it out in a thin sheet. Pavlova's normally have a large ratio of meringue to fruit and cream, but since the meringue is quite sweet, I prefer a thinner meringue to accompany the fruit and cream. The thinner meringue and the shredded coconut become crispy which brings out a nice toasted flavor and balances out the sweetness. 
For the cream, pure whipped cream is commonly used, but I add greek yogurt and lemon juice to make it lighter. For fruits, I chose fresh mangoes and pineapple, adding a little Rum, and drizzling with a passion fruit sauce. Toasted meringue, light but rich lemony yogurt cream and fresh sweet and tart tropical fruits are just an amazing combination.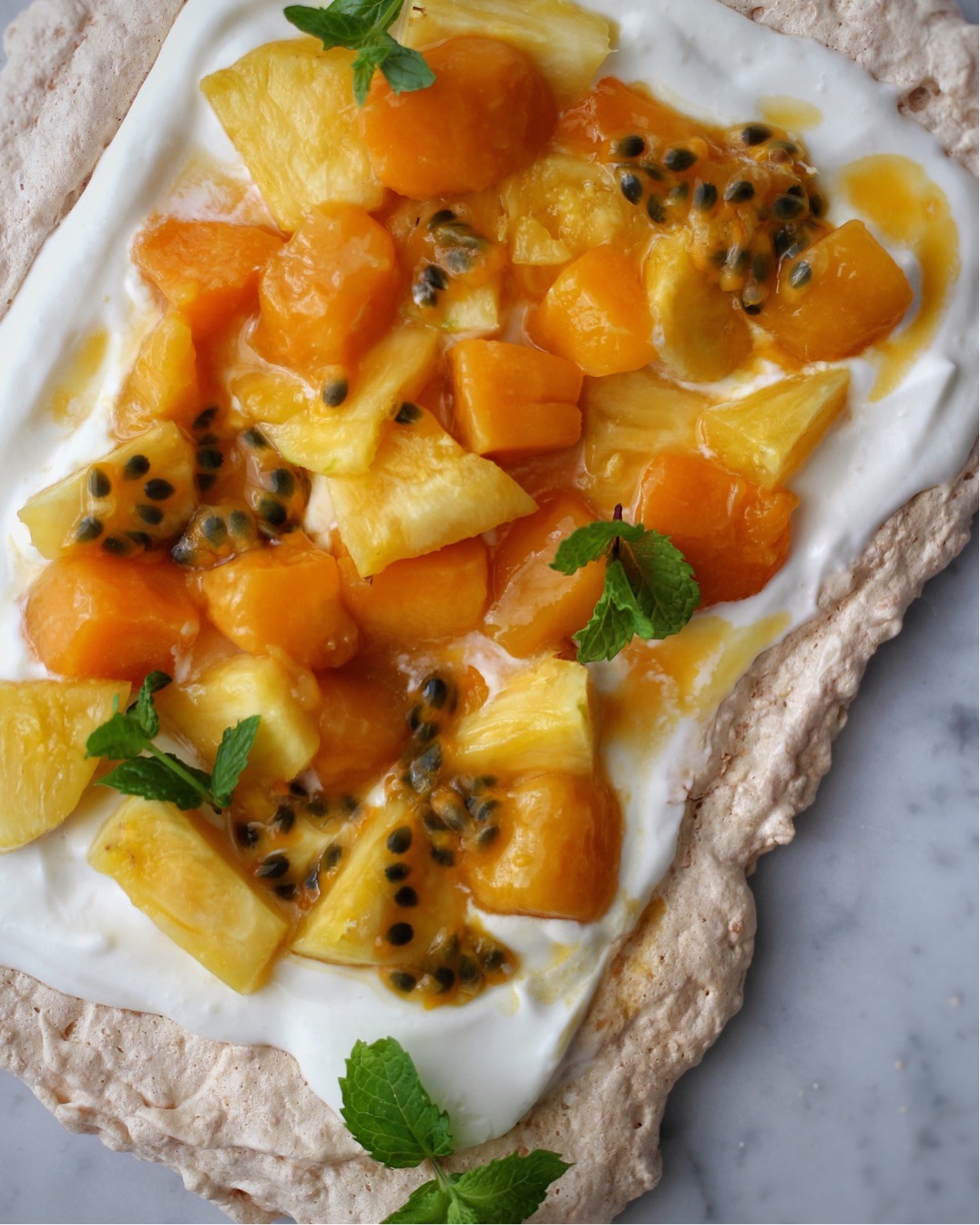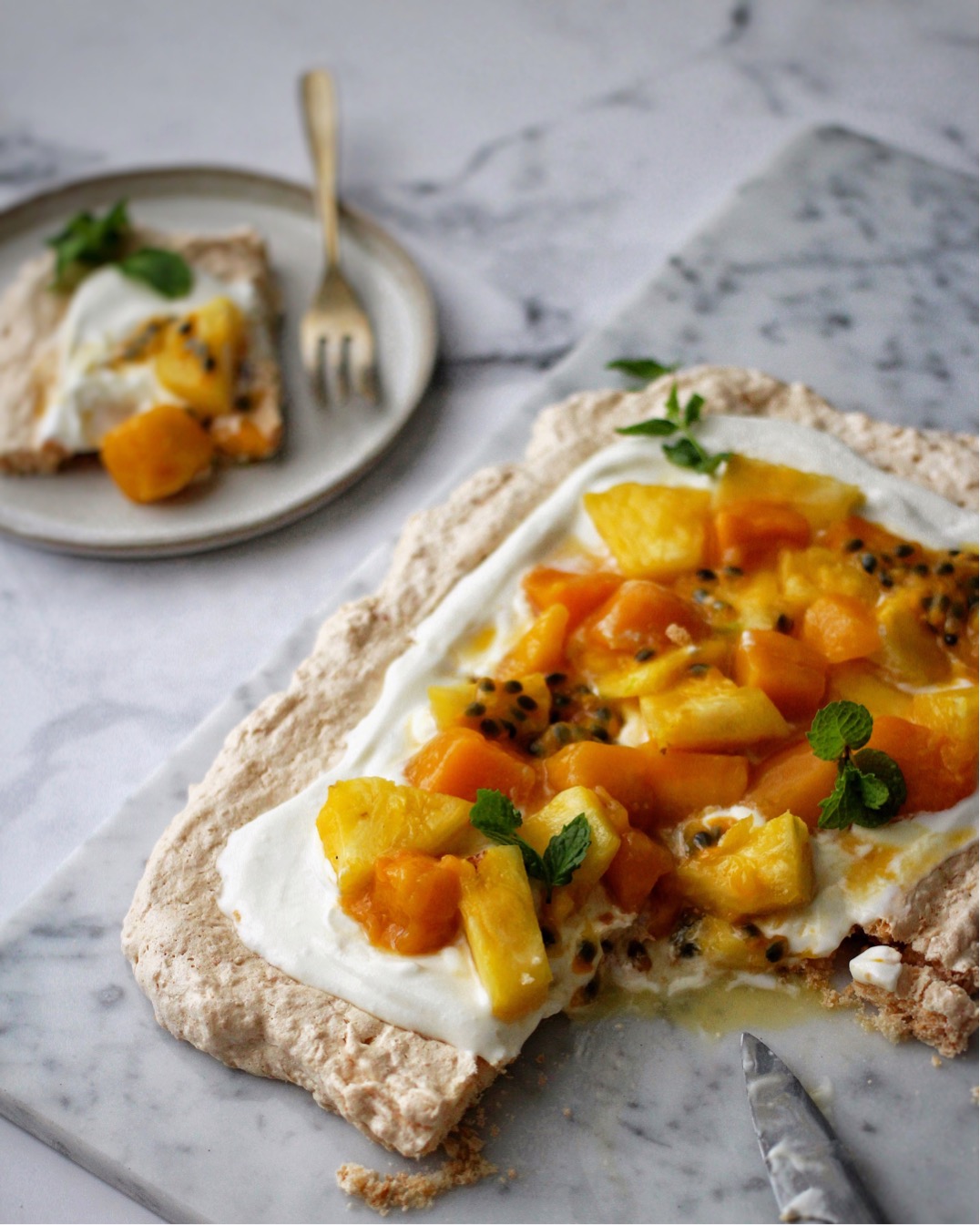 Recipes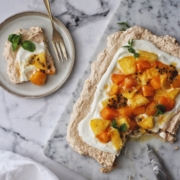 Coconut Pavlova with Tropical fruits
Coconut meringue
4

egg whites

200

g (1 cup)

caster sugar

1

tsp

vanilla extract

60

g (1/2 cup)

shredded coconut
Greek yogurt whipped cream
200

g

Greek yogurt

30

g (1+1/2 tbsp)

honey

2

tsp

lemon juice

60

ml (1/4 cup)

whipping cream
Coconut meringue
Preheat the oven to 150℃/ 300℉. Line a large baking tray with baking paper.

In a mixing bowl, put egg whites and lemon juice then start whipping. Add the sugar gradually, whip to stiff peaks. Make beautiful stiff meringue.

Add vanilla extract and shredded coconut. Fold it gently from below to above.

Spoon the meringue on to the baking paper and spread into square. Bake in the preheated oven at 150℃/300℉ for 30 min, then turn down to 120℃/250℉ and bake another 15-20 min or until it gets slightly golden.
Greek yogurt whipped cream
Whisk whipping cream to medium stiff peaks. In another large bowl, put greek yogurt, honey, lemon juice and mix to combine. Then mix in whipped cream.
Topping
In a large bowl, put the mangoes, pineapples, lemon juice and rum. Using a large spoon, stir the ingredients together.
Assembly
Assemble just before serving. Spread the yogurt cream evenly over the meringue, and top with the prepared fruits. Scoop out passion fruit over tops, serve immediately.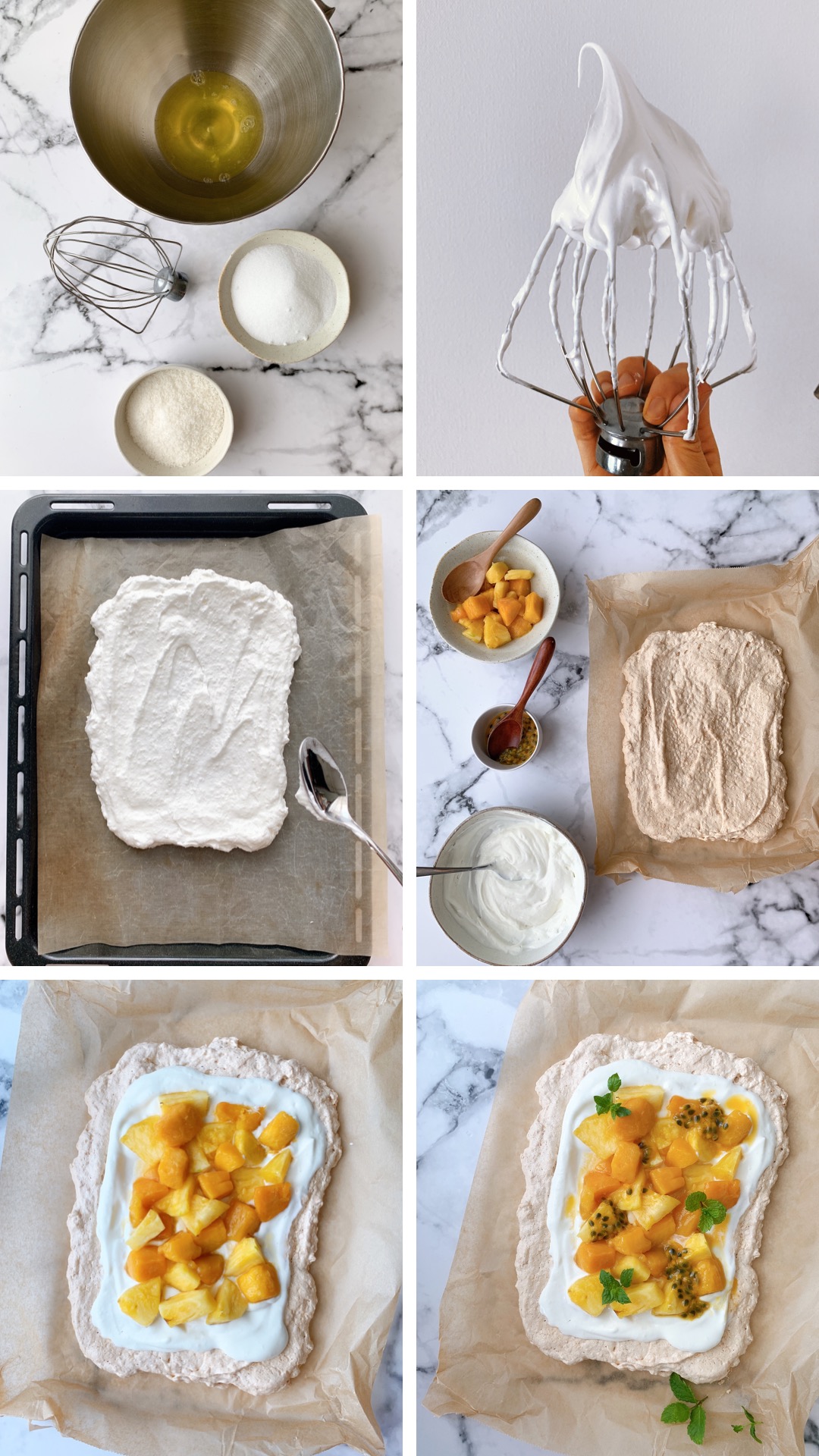 Helpful Tips
You can adjust the size of your meringue to suit your needs.  Also it doesn't need to be a square, you can make it round like the original pavlova.