Unsweetened plain yogurt with frozen mixed berries is my favorite, easy, on-the-go snack. I wish I could eat rich sweets every day without putting on weight but I can't. Today, I tried to make my daily yogurt bowl as pretty as possible for myself. We sometimes need to liven up our lives by making everyday things, such as a snack, more attractive. 
I tried baking this granola first with honey and then with maple syrup. Both came out so good so you can go with your favorite option. Honey gives granola a more golden color and a honey flavor, and the texture is slightly more moist.  Maple syrup gives the granola a more dry and crispy texture with a maple aroma.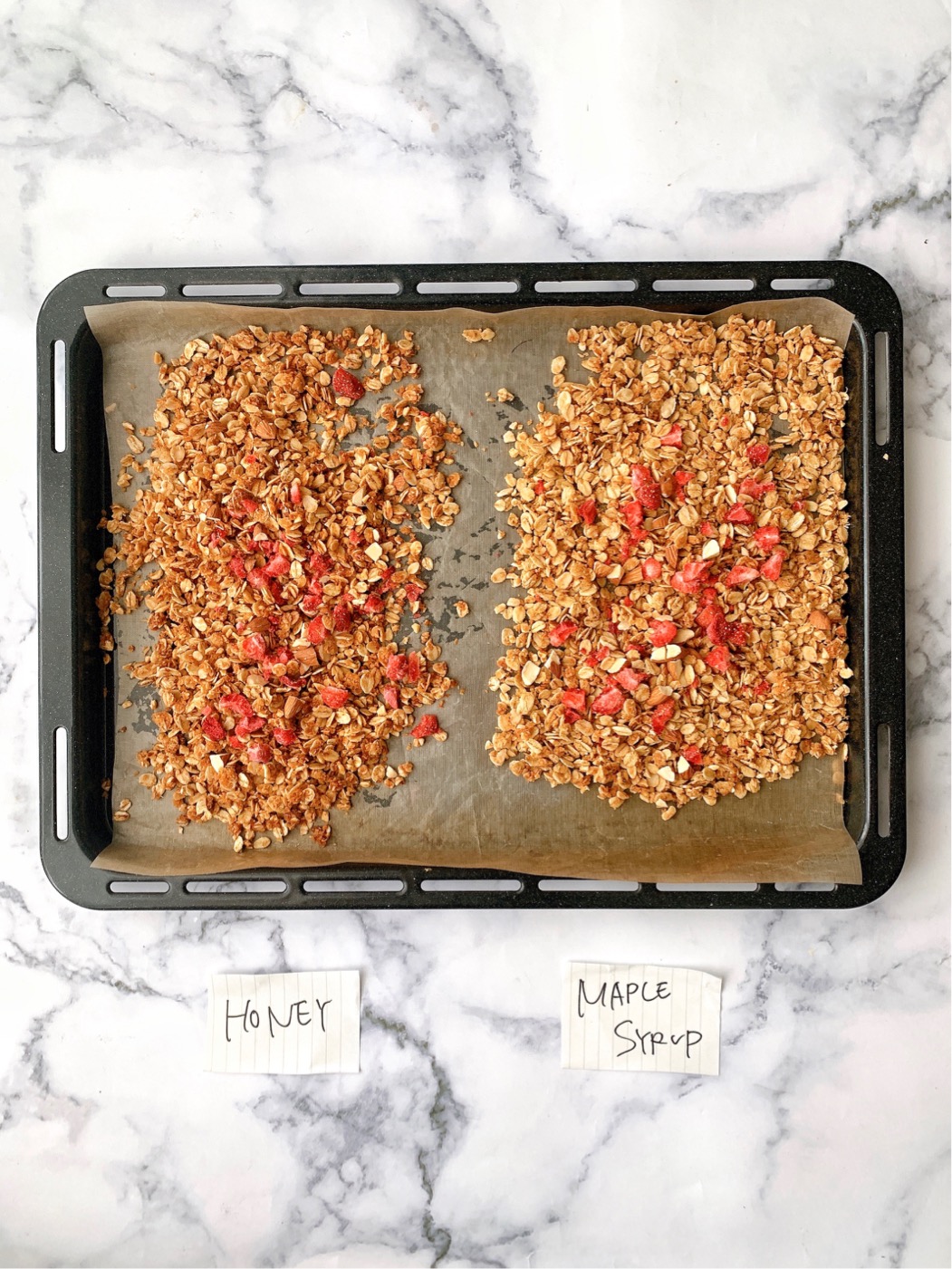 It doesn't need to be in a glass, you can put yogurt in a bowl then arrange granola, fresh fruits and sauce too. You can also change the order of layers. Enjoy creating your granola parfait!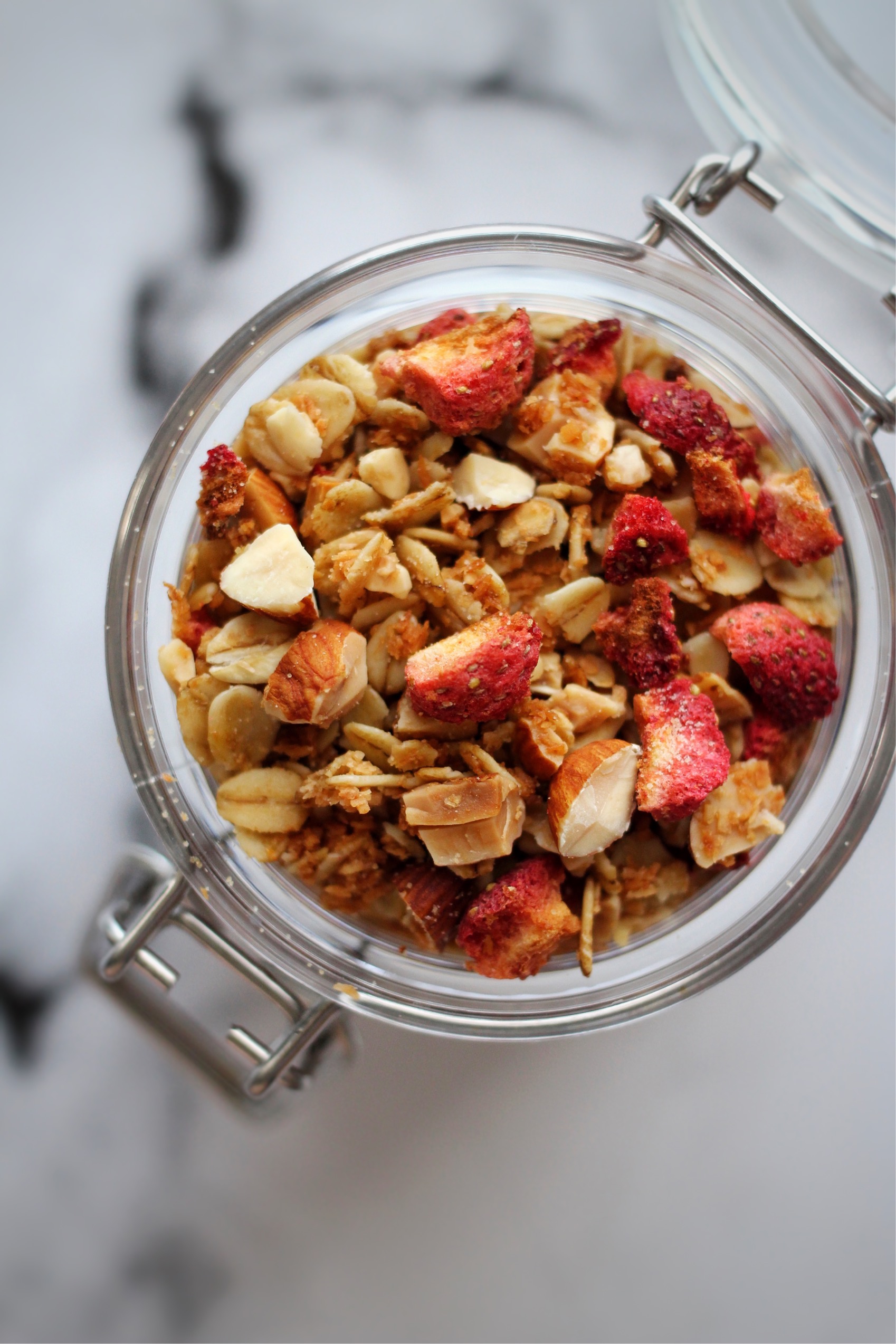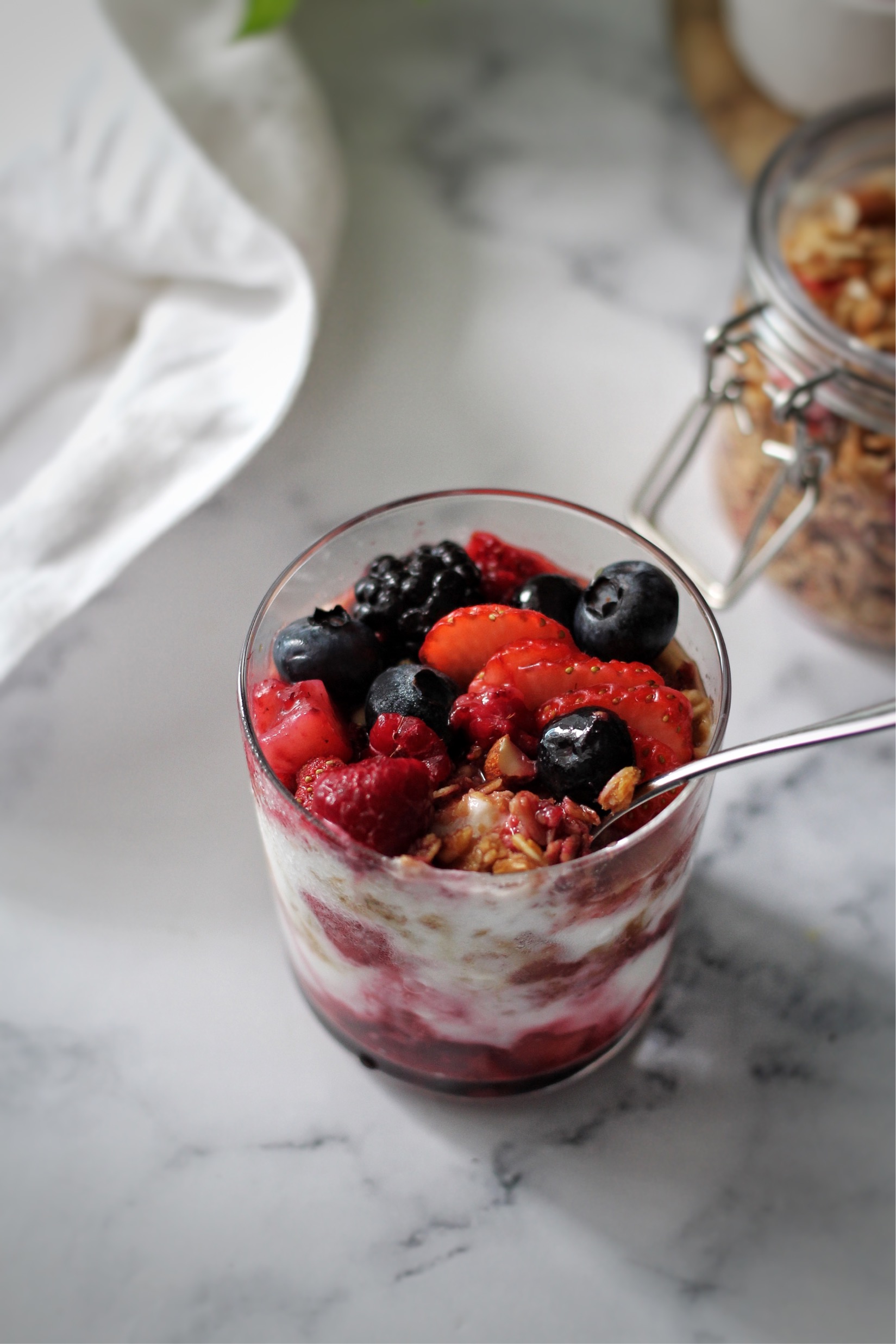 Recipes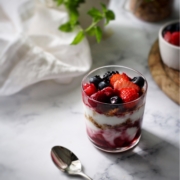 Mixed berry Coconut Granola Parfait
Strawberry Coconut Granola
3

cups

old-fashioned rolled oats

(GF if desired)

1

cup

raw, unsweetened shredded coconut

1

cup

raw almonds, coarsely chopped

2

tbsp

sugar

1/4

tsp

salt

1/4

cup

honey or maple syrup

1/3

cup

coconut oil

1

cup

unsweetened freeze-dried strawberries
Mixed berry sauce
1

cup

mixed berries

30

g (3 tbsp)

sugar

1

tbsp

lemon juice

greek yogurt

fresh berries
Strawberry Coconut Granola
Preheat the oven to 150℃/ 300℉.

In a large bowl, combine oats, coconuts and almonds.

To a small saucepan, add sugar, salt, honey and coconut oil then warm over medium heat. Whisk to combine.


Pour the liquid mixture over the dry ingredients and stir well.

Pour mixture onto an oven tray lined with baking paper. Make sure the granola is evenly spread.

Bake in the preheated oven for about 30 to 40 min, or until lightly golden. Remove from oven and stir every 10 minutes to avoid burning. Let it cool.

Once cooled, add the unsweetened freeze-dried strawberries. Store in an airtight container.
Mixed berry sauce
Put the mixed berries in a small pan, add the sugar and cook it for about 5 minutes. Mix occasionally. Remove it from the heat and add the lemon juice. Let it cool. You can also make it with a microwave. Toss berries and sugar in a microwave-safe bowl until well combined. Microwave for 1-2 minutes. Add the lemon juice.
Assembly
Place mixed berry sauce in bottom of glass. Add a layer of Greek yogurt, then granola. Add another layer of Greek yogurt and granola. Arrange fresh berries and add mixed berry sauce on top.
Helpful Tips
I highly recommend using unsweetened freeze-dried strawberries for this granola but If you can't find it, you can use your favorite dried fruits instead.