I never had any interest in healthy sweets. I thought "healthy food is not tasty".
But one of my talented friends, Manju, changed my mind. She loves cooking and her dishes are healthy, and so good! I'm a big fan of her Indian dishes and she always shows me how to cook when I visit Dubai. 
Now I sometimes try baking sweets with healthy ingredients. It's not easy but it is fun. I have baked these Quinoa cookies many times in order to find the best recipe. 
You can use coconut oil instead of the butter if you prefer but I prefer butter to get a chewy texture. 
Hope you like it!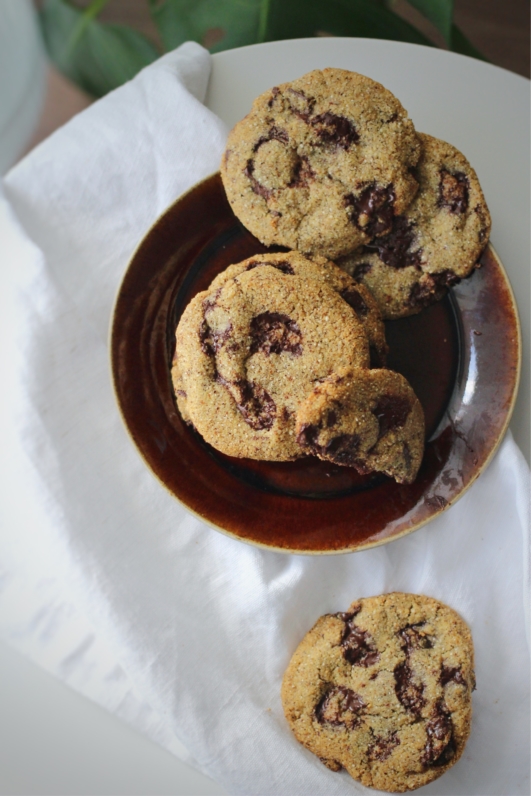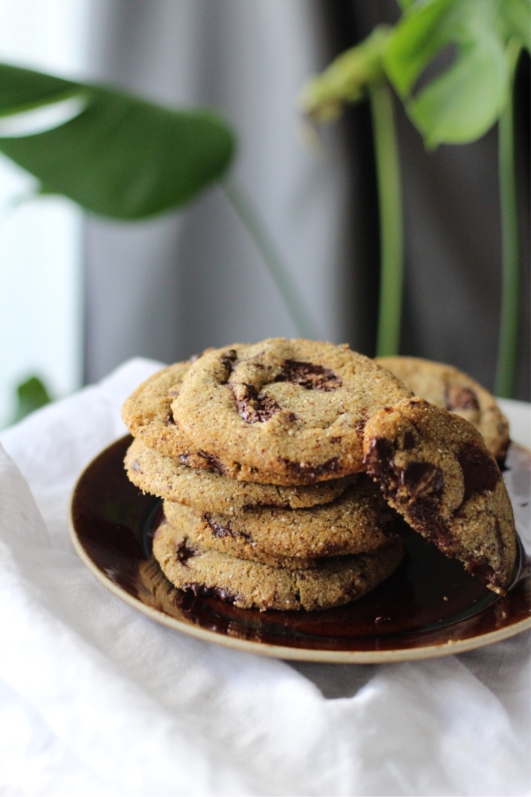 Manju's website  https://tealthy.com/
Recipes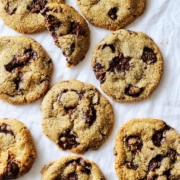 Gluten-free Quinoa Chocolate chip Cookie
100

g (1/2 cup)

quinoa

100

g (1/2 cup)

unsalted butter

200

g (1 cup)

light brown sugar

2

g (1/2 tbsp)

salt

2

egg yolks

40

g (1/2 cup)

almond powder

10

g (1.5 tbsp)

corn flour

3

g (1 tsp)

baking powder

200

g (1 cup)

dark chocolate chip
Rinse quinoa with plenty of water and drain it. Place on the saucepan and cook with medium-high heat to remove the bitter taste from the quinoa. Keep stirring constantly, let the water evaporate first then toast the quinoa for about 3 mins until it gets slightly golden brown. Put it in a blender and crush into a powder.

Put room temperature unsalted butter and sugar in a bowl, and cream with a whisk.

Add salt and two egg yolks, then mix to combine.

Add the quinoa, almond powder, corn flour and baking powder.

Add chocolate chips and mix in.

Make small cookie dough balls and place them on the tray. Cover with the film, let it cool in the fridge for at least one hour.

Place them onto a baking tray with baking paper. They will expand so keep some space between each ball. Bake them in a preheated oven at 180℃/360℉ for about 10 min or until edges are slightly golden. Be careful not to bake too much otherwise it won't be chewy.
Helpful Tips
 You can use your favorite sugar as your preference. You can also use other flours like rice flour, gluten free flour, plain flour instead of corn flour.