Christmas is around the corner!
These are one of my favorite cookies, my family and friends think so too. 
I know these cookies are pretty high in calories, but one ball with a cup of coffee makes me so happy!
It's not difficult at all and so tasty. I usually bake a big bunch and share them with my family and friends.
Happy holidays to you all!:)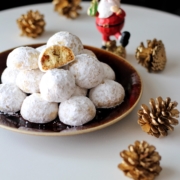 Recipes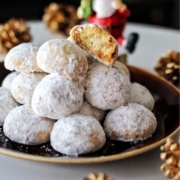 Snowball Cookies
70

g (1/3 cup)

unsalted butter

40

g (1/3 cup)

powdered sugar (icing sugar)

1

piece of

egg yolk

70

g (5/8 cup)

flour

30

g (1/4 cup)

almond powder

40

g (1/3 cup)

walnut

1

cup

powdered sugar for rolling
Preheat the oven to 170℃/ 340℉.

Put the room temperature unsalted butter and powdered sugar in a bowl, and cream with a whisk.

Beat the egg in a separate bowl and add it little by little to the big bowl. Mix to combine.

Add roasted and chopped walnuts to the dough, and mix. You can use your favorite nuts like almond and hazelnut.

Add flour and almond powder, mix them together until you can't see any flour, but don't over mix.

Cover the dough up with film, and let it cool in the fridge for at least two hours. Divide the dough with a knife and make small balls.

Place them onto an oven tray and bake in the preheated oven at 170℃/340℉ for 15 min.

Put them into a bowl with powdered sugar, cover the cookies with it while they are hot.
Helpful Tips
I recommend preparing a large amount of dough and then baking as many as you need. After making the small balls, you can keep them in the freezer before baking them. Bake with the same temperature but it will take a little bit longer.