Autumn is here!
When figs are in season and I come to see them in the supermarket, I can't stop buying them and making sweets.
I like the combination of figs, honey and cream cheese, so why not make a cake using these three ingredients?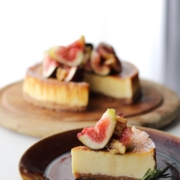 Crumbled cookies with roughly chopped walnuts for the base, with rich and creamy honey cheese cake filling poured over the top and baked. Arranged with fresh figs, drizzled honey and nuts sprinkled on top.
What does autumn feel like for you?
Recipes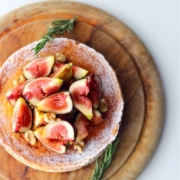 Honey Walnut Fig Cheesecake
For 18cm/ 7inch round pan
75

g (3/4 cup)

graham crackers or your favorite cookies

30

g (1/4 cup)

walnut

50

g (1/4 cup)

unsalted butter

200

g

cream cheese

100

g (2/5 cup)

greek yogurt

60

g (3tbsp)

honey

2

eggs

1

tsp

vanilla beans or vanilla extract

15

g (2 tbsp)

corn flour

180

g (4/5 cup)

whipping cream/ heavy cream
Preheat the oven to 200°C/392℉. Line the pan with baking paper and set aside.

Put the graham crackers in a food processor and blend. Add the walnuts and blend together. Then add the melted butter and mix to combine.

Put the crumbs into the prepared pan and press to make it even. Let it cool in the fridge before using.

Put the cream cheese in the clean food processor and blend it until creamy. Add the greek yogurt, and mix to combine.

Mix in the honey, then add the egg and mix again.

Mix in the vanilla beans and corn flour, add whipping cream then mix until it gets completely incorporated.

Pour cheesecake mixture over prepared crust and place on a baking tray. Pour hot water in the tray and bake it in the preheated oven for 15 min. Then turn down to 160℃/320℉, bake it for another 40 min. Let it cool in the fridge.

Once it is cooled, remove from the pan and place on a plate. Arrange fresh fig slices over the cheesecake. Sprinkle with walnuts and a drizzle of honey.
Helpful Tips
For the crust, add the walnuts into the food processor after the graham crackers are already crumbled, then blend together. Stop blending when the walnuts are coarsely chopped, and before they become like powder so that you can enjoy the crunchy texture.